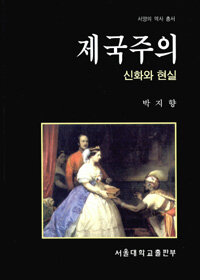 000
00000nam c2200205 c 4500
001
000000663056
005
20160303101227
007
ta
008
000424s2000 ulk b AK 001c kor
020

▼a

8952101731

▼g

93900
020

▼a

9788952101730

▼g

93900
020

▼a

9788952118202

▼g

93900
040

▼a

211009

▼c

211009

▼d

211009
049

1

▼l

111154575

▼l

111154576

▼l

111154577
082

0

4

▼a

325.32

▼2

22
085

▼a

325.32

▼2

DDCK
090

▼a

325.32

▼b

2000
100

1

▼a

박지향

▼g

朴枝香,

▼d

1953-

▼0

AUTH(211009)94925
245

1

0

▼a

제국주의 :

▼b

신화와 현실 /

▼d

박지향
260

▼a

서울 :

▼b

서울대학교출판부,

▼c

2000

▼g

(2015)
300

▼a

vii, 324 p. ;

▼c

23 cm
440

0

0

▼a

서양의 역사 총서
504

▼a

참고문헌(p. 301-315)과 색인수록
---
Contents information
Book Introduction
영국을 중심으로 '제국주의''식민주의'라는 용어해설부터 시작하여 제국주의에 대한 다양한 이론과 논의를 소개한 제국주의 입문서이다. 정치적 종속과 경제적 착취라는 익숙한 논의만이 아니라 최근 포스트 모더니즘과 탈구조주의의 영향으로 꽃피고 있는 제국주의의 문화와 젠더 영역에 대해서도 다양하게 접근하고 있는 것이 특징이다.

저자는 새로운 세기에 대한 기대가 그 어느 때보다 컸던 지난 10여년 동안 학계에서는 식민주의와 제국주의에 대한 논의가 그 어느 때보다도 활발하였으며, 새롭고 혁신적인 연구가 계속되었음을 밝히며 그 배경에 몇가지 원인이 있었음을 지적한다.

첫째, 1989년 소련해체 이후 유럽에서 진행된 급격한 변화들은 과거에 대한 관심을 약화시키기 보다 오히려 강화시켰으며, 둘째 거의 순수하게 백인들만의 사회이던 유럽이 독립한 식민지들로 부터 온 이민들로 인해 다인종적이고 다문화적인 사회가 된 데 있다. 셋째, 우리의 문화가 점차 지구화하는 현상과 넷째, '탈(post)'개념의 성행으로 '제국주의의 문화사'에 대한 관심이 높아졌음을 들 수 있다.

따라서 이 책은 외형적으로는 사라졌지만 여전히 우리 곁에 있는 식민주의와 제국주의에 대해 다시 한번 생각해 볼 수 있는 좋은 기회가 될 것이다.

서양 제국주의의 다양한 면모와 해석이 담겨 있다. 필자의 전문 분야가 영국사이기 때문에 영국의 경험이 중심을 이루고 있지만, 가능한 한 서양 전반을 다루려고 노력했다. 정치적 종속과 경제적 착취라는 익숙한 논의뿐만 아니라 최근 포스트모더니즘과 탈구조주의의 영향으로 꽃피고 있는 제국주의의 문화와 젠더 영역도 접할 수 있다.
Information Provided By: :

Author Introduction
박지향
(지은이)
서울대학교 문리과대학 서양사학과에서 학사와 석사를 마치고 뉴욕주립대학교(스토니브룩 소재)에서 철학박사 학위를 받았다. 뉴욕 프랫대학교와 인하대학교를 거쳐 1992년부터 서울대학교 인문대학 서양사학과 교수를 역임했으며, 현재 서울대학교 명예교수이다. 도쿄대학교와 케임브리지대학교 연구원으로 활동했고, 서울대학교 중앙도서관장(2011~2015), 한국영국사학회 회장, 국사편찬위원회 위원, 대통령 소속 인문정신특별위원회 위원 등을 역임했다. 영국사와 서양근현대사 전공으로 민족주의와 제국주의를 집중 연구했으며 지난 10여 년간 영국, 아일랜드, 일본, 한국을 아우르는 비교사적 시각에서 역사를 바라보는 노력을 진행해왔다. 저서로 Profit-Sharing and Industrial Co-partnership in British Industry 1880-1920: Class Conflict or Class Collaboration?(London & New York), 『평등을 넘어 공정으로』, 『제국의 품격』, 『정당의 생명력: 영국 보수당』, 『클래식 영국사』, 『대처 스타일』, 『슬픈 아일랜드』, 『영국적인, 너무나 영국적인』, 『제국주의: 신화와 현실』 등의 저서가 있고, Past and Present, Journal of Social History, Journal of Contemporary History, 《서양사론》, 《역사학보》 등 국내외 저널에 60여 편의 논문을 발표했다.
Information Provided By: :

Table of Contents


목차

머리말 = ⅲ

제1장 오늘의 담론: 왜 지금 제국주의인가 = 1

제2장 제국주의란 무엇인가 = 13

제3장 식민과 탈식민의 이론 = 23

 1. 신제국주의의 원인 = 24

 2. 제국의 해체 = 36

 3. 식민주의 담론 분석과 탈식민이론 = 43

제4장 제국은 왜 팽창하는가 = 53

 1. 경제적 동기 = 54

 2. 전략적·정치적 동기 = 63

 3. 문명화의 사명 = 73

제5장 제국주의와 경제: 수탈인가 근대화인가 = 85

 1. 유럽의 경제 성장과 식민지 = 86

 2. 식민지 경제발전과 제국주의 = 95

 3. 영제국의 경제적 수익성 = 100

제6장 협력, 협력자 = 113

 1. 협력이론 = 115

 2. 협력자의 사례Ⅰ: 인도 및 아프리카 = 123

 3. 협력자의 사례Ⅱ: 일제하 친일파 = 133

제7장 남성, 여성, 제국 = 145

 1. 남성성과 제국의 담론 = 147

 2. 여성성과 제국 = 156

 3. 남성적 지배자, 여성적 종속민 = 163

제8장 제국의 선전과 전파 = 173

 1. 교육 및 사회단체를 통한 선전 = 174

 2. 대중 소비문화와 제국주의 = 185

 3. 제국의 영웅 = 191

제9장 제국을 어떻게 통치할 것인가 = 201

 1. 직접통치와 간접통치 = 202

 2. 간접통치의 배경 = 211

 3. 과학 기술의 발달과 제국 통치 = 220

제10장 해가지지 않는 제국: 대영제국 = 229

 1. 상업, 해군, 제국의 삼각형 = 230

 2. '제국주의자'의 유형 = 238

 3. 켈트 변두리와 제국 = 248

제11자 제국과 인종: 영국과 일본의 비교 = 259

 1. 앵글로-색슨주의와 문명의 계서제 = 261

 2. 일본의 오리엔탈리즘적 인종주의 = 272

 3. 동화정책과 인종주의 = 278

제12장 제국주의와 대차대조표 = 289

참고문헌 = 301

찾아보기 = 317