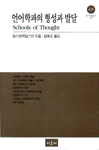 000
00834namccc200277 k 4500
001
000000658719
005
20100806120246
007
ta
008
000223s1999 ulk 001a kor
020

▼a

8988791142

▼g

94700 :

▼c

\18000
020

1

▼a

8988791002(세트)
040

▼a

211009

▼c

211009

▼d

211009
041

1

▼a

kor

▼h

eng
049

1

▼l

111145772

▼l

111145773

▼l

111145774
082

0

4

▼a

410.9

▼2

21
090

▼a

410.9

▼b

1999a
100

1

▼a

Amsterdamska, Olga

▼0

AUTH(211009)45668
245

1

0

▼a

언어학파의 형성과 발달 /

▼d

암스테르담스카 지음 ;

▼e

임혜순 옮김.
246

1

9

▼a

Schools of thought : the development of linguistics from bopp to saussure
260

▼a

서울 :

▼b

아르케 ,

▼c

1999.
300

▼a

468 p. ;

▼c

23 cm.
490

0

0

▼a

대우학술총서 번역 ;

▼v

435
500

▼a

색인수록
700

1

▼a

임혜순,

▼e

옮김

▼0

AUTH(211009)124728
950

0

▼b

\18000
---
Holdings Information
No.
Location
Call Number
Accession No.
Availability
Due Date
Make a Reservation
Service

No.

1

Location

Main Library/Monographs(3F)/

Call Number

410.9 1999a

Accession No.

111145772

Availability

Available

Due Date

Make a Reservation

Service

No.

2

Location

Main Library/Monographs(3F)/

Call Number

410.9 1999a

Accession No.

111145773

Availability

Available

Due Date

Make a Reservation

Service

No.

3

Location

Main Library/Monographs(3F)/

Call Number

410.9 1999a

Accession No.

111145774

Availability

Available

Due Date

Make a Reservation

Service
Contents information
Book Introduction
이 책은 과학사회학 및 과학철학의 기본이론서로, 일반적인 언어학사나 언어학이론 개설서와는 차이가 있다. 저자는 과학사회학자로서 언어학파의 형성과 발달을 검토하면서, 각 언어학파의 이론 및 그 이론 형성에 영향을 미친 사회적 환경을 분석한다. 그리고 언어학의 정립에 대한 과학사회학적 분석 및 나아가 그 이론적 기초에 대한 과학철학적 분석을 시도하고 있다.

현대 학문에서 학제간 접근법은 이미 보편화되어 있고 과학에서도 인지 능력의 한계와 정치적, 사회적 요인의 영향을 아울러 고찰하는 접근법 역시 폭넓게 활용되고 있다. 이러한 맥락에서 이 책은 언어학사에 대한 학제간 연구접근법의 광범위한 시각을 제공하는 동시에 일반 언어학 개설서에서는 발견하기 힘든 유용성도 제공하고 있다.
Information Provided By: :

Author Introduction
올가 암스테르담스카
(지은이)
암스테르담대학교의 사회학과, 인류학과 겸임교수로서 과학과 의학에 대한 사회적 연구를 강의했다. 생의학의 발전, 역학의 역사, 20세기 의학에서 실험실, 병원, 공중보건의 상호작용 등에 관심을 가지고 연구를 했다. 저서로 Schools of Thought: The Development of Linguistics from Bopp to Saussure(1987)가 있고, 학술지 Science, Technology, and Human Values의 편집인을 역임했다. 2009년 희귀 심장병으로 세상을 떠났다.
임혜순
(지은이)
서울대학교 언어학과 및 동대학원 졸업. 미국 미시간 주립대학교 영문과에서 석사, 박사 학위 받음. 현 한림대학교 영문학과 교수.
Information Provided By: :

Table of Contents


목차

서문 = 5

제1장 사상학파 : 이론적 관찰 = 15

 1 사상학파의 정의 = 20

 2 사상학파의 인지적 분기 = 29

  철학적 분기 = 30

  이론적 분기 = 32

  실체적·방법론적 분기 = 33

  인지적 분기 체계에 함축된 내용 = 34

 3 사상학파의 사회적 분기 = 39

  학파 대 학문분야 : 자율성과 제도화 = 40

  학파와 연구 결과의 정당성 = 42

  학술과학에서의 학파 = 46

  이중적 정당화 체계 = 49

  이중적 정당화 체계의 인지론적 귀결 = 51

 4 분기 여건 = 51

  중심과 주변 = 51

  지도자의 위상 = 54

 5 언어학의 사상학파 = 56

제2장 초기 비교문법학자들의 관념체계 = 61

 1 초기 비교문법학자들 : 철학적·이론적 신념 = 65

 2 슐라이허의 통합 : 현상을 구제하기 위하여 = 80

 3 1870년 이전의 언어학 방법론 = 89

제3장 독일 대학에서의 언어학 = 109

 1 고등교육에 대한 관념과 언어학의 성장 = 111

 2 가르치고 연구하는 기관 = 122

 3 언어학과 문헌학 : 제도화의 양식 = 131

제4장 신문법학파 이론 = 147

 1 신문법학파의 유산 : 언어학 방법론 = 152

 2 이론 탐구 방법 = 167

제5장 신문법학파의 위로부터의 혁명 = 199

 1 문제점 = 203

 2 과학적 권위를 얻기 위한 시도로서의 사상학파 = 206

 3 제도적 환경 = 211

 4 신문법학파의 (위로부터의 혁명) = 218

 5 제도적 변화의 인지적 반향 = 223

제6장 관념론자의 반응 = 233

 1 언어학의 인과성과 설명 : 과학의 부정 = 237

 2 예술로서의 언어학과 언어학 연구의 이상 = 250

 3 언어학의 부정 : 신관념론자와 학문의 위기 = 261

제7장 소쉬르의 내부로부터의 혁명 = 279

 1 공시성으로의 길 : 지나친 편향과 그 장애물 = 286

  균일주의 = 289

  유추 이론 = 292

  공시적 현상으로서의 모음교체 = 302

 2 언어 사실의 구축 = 313

 3 구조주의 : 자율적 대상으로서의 언어 = 340

제8장 주변 학파들 = 363

 1 주변인으로서 소쉬르? = 369

 2 주변부의 언어학 = 374

제9장 결론 = 391

옮긴이의 말 = 417

참고문헌 = 431

찾아보기 = 453