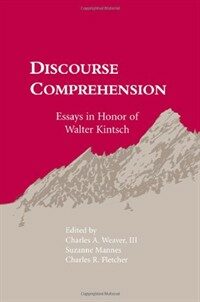 000
03133camuu2200301 a 4500
001
000000638766
005
19990629110632
008
940526s1995 njua b 011 0 eng
010

▼a

94021936
020

▼a

0805815341 (alk. paper)
020

▼a

080581535X (pbk. : alk. paper)
040

▼a

DLC

▼c

DLC

▼d

PMC
049

▼l

111129721
050

0

0

▼a

P302.8

▼b

.D574 1995
082

0

0

▼a

401/.41

▼2

20
090

▼a

401.41

▼b

D6112
245

0

0

▼a

Discourse comprehension:

▼b

essays in honor of Walter Kintsch /

▼c

edited by Charles A. Weaver, III, Suzanne Mannes, Charles R. Fletcher.
260

▼a

Hillsdale, N.J. :

▼b

L. Erlbaum ,

▼c

1995.
300

▼a

xii, 426 p. :

▼b

ill. ;

▼c

24 cm.
504

▼a

Includes bibliographical references and indexes.
505

0

▼a

Walter Kintsch : a brief biography / Peter G. Polson -- Where do propositions come from? / Charles A. Perfetti and M. Anne Britt -- A general model of classification and memory applied to discourse processing / W.K. Estes -- Primacy and recency in the chunking model / Bennet B. Murdock -- Understanding concepts in activity / James G. Greeno -- The minimalist hypothesis : directions for research / Gail McKoon and Roger Ratcliff -- Inference generation and the construction of situation models / Arthur C. Graesser and Rolf Z. Zwaan -- Activitating knowledge of fictional characters' emotional states / Morton Ann Gernsbacher -- Understanding the special mnemonic characteristics of fairy tales / Mark A. McDaniel, Doreen Blischak, and Gilles O. Einstein -- Comprehension monitoring : extensions of the Kintsch and Van Dijk model / Charles A. Weaver, III, Deborah S. Bryant, and Kevin D. Burns -- Top-down effects in a bottom-up model of narrative comprehension and recall / Charles R. Fletcher, Erik J. Arthur, and Robert C. Skeate -- Simulating recall and recognition by using Kintsch's construction-integration model / Isabelle Tapiero and Guy Denhiere -- Priming of inference concepts in the construction-integration model / Janice M. Keenan and Tracy M. Jennings -- Memory and its Graeculi : metamemory and control in extended memory systems / Wolfgang Schonpflug and Klaus Berthold Esser -- The acquisition of knowledge from text and example situations : an extension to the construction-integration model / Franz Schmalhofer -- The role of presentational structures in understanding and solving mathematical word problems / Fritz C. Staub and Kurt Reusser -- Beyond discourse : applications of the construction-integration model / Suzanne Mannes and Stephanie Doane -- CAPping the construction-integration model of discourse comprehension / Susan R. Goldman and Sashank Varma -- Construction-integration theory and clinical reasoning / Jose F. Arocha and Vimla L. Patel -- On macrostructures, mental models, and other inventions : a brief personal history of the Kintsch-van Dijk theory / Teun A. van Dijk.
650

0

▼a

Discourse analysis

▼x

Psychological aspects.
650

0

▼a

Comprehension.
700

1

▼a

Kintsch, Walter

▼d

1932-
700

1

▼a

Weaver, Charles A.
700

1

▼a

Mannes, Suzanne.
700

1

▼a

Fletcher, Charles Randall.
---
Holdings Information
No.
Location
Call Number
Accession No.
Availability
Due Date
Make a Reservation
Service

No.

1

Location

Main Library/Western Books/

Call Number

401.41 D6112

Accession No.

111129721

Availability

Available

Due Date

Make a Reservation

Service
Contents information
Table of Contents
Contents: Preface. P.G. Polson, Walter Kintsch: A Brief Biography. C.A. Perfetti, M.A. Britt, Where Do Propositions Come From? W.K. Estes, A General Model of Classification and Memory Applied to Discourse Processing. B.B. Murdock, Primacy and Recency in the Chunking Model. J.G. Greeno, Understanding Concepts in Activity. G. McKoon, R. Ratcliff, The Minimalist Hypothesis: Directions for Research. A.C. Graesser, R.A. Zwaan, Inference Generation and the Construction of Situation Models. M.A. Gernsbacher, Activating Knowledge of Fictional Characters' Emotional States. M.A. McDaniel, D. Blischak, G.O. Einstein, Understanding the Special Mnemonic Characteristics of Fairy Tales. C.A. Weaver, III, D.S. Bryant, K.D. Burns, Comprehension Monitoring: Extensions of the Kintsch and van Dijk Model. C.R. Fletcher, E.J. Arthur, R.C. Skeate, Top-Down Effects in a Bottom-Up Model of Narrative Comprehension and Recall. I. Tapiero, G. Denhière, Simulating Recall and Recognition by Using Kintsch's Construction-Integration Model. J.M. Keenan, T.M. Jennings, Priming of Inference Concepts in the Construction-Integration Model. W. Schönpflug, K.B. Esser, Memory and Its Graeculi: Metamemory and Control in Extended Memory Systems. F. Schmalhofer, The Acquisition of Knowledge from Text and Example Situations: An Extension to the Construction-Integration Model. F.C. Staub, K. Reusser, The Role of Presentational Structures in Understanding and Solving Mathematical Word Problems. S. Mannes, S. Doane, Beyond Discourse: Applications of the Construction-Integration Model. S.R. Goldman, S. Varma, CAPping the Construction-Integration Model of Discourse Comprehension. J.F. Arocha, V.L. Patel, Construction-Integration Theory and Clinical Reasoning. T.A. van Dijk, On Macrostructures, Mental Models, and Other Inventions: A Brief Personal History of the Kintsch-van Dijk Theory. S. Mannes, Epilogue.

Information Provided By: :