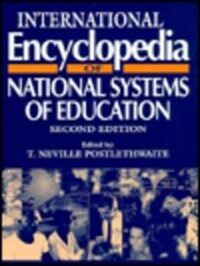 000
01314camuu2200325 a 4500
001
000000567895
005
20120720102818
008
950630s1995 enka be 001 0 eng
010

▼a

95034436 //r97
020

▼a

0080423027 (hc : alk. paper)
040

▼a

DLC

▼c

DLC

▼d

211009
049

1

▼l

111093563

▼f

R
050

0

0

▼a

LB43

▼b

.I584 1995
082

0

4

▼a

370.9

▼2

22
084

▼a

370.9

▼2

DDCK
090

▼a

370.9

▼b

I612-2
245

0

0

▼a

International encyclopedia of national systems of education /

▼c

edited by T. Neville Postlethwaite.
250

▼a

2nd ed.
260

▼a

Oxford, OX, UK ;

▼a

Tarrytown, N.Y., USA :

▼b

Pergamon,

▼c

1995.
300

▼a

xxii, 1105 p. :

▼b

ill. ;

▼c

26 cm.
490

1

▼a

Resources in education.
500

▼a

Draws upon articles in the International encyclopedia of education, second ed., with revisions as well as new articles.
504

▼a

Includes bibliographical references and index.
650

0

▼a

Comparative education

▼x

Encyclopedias.
650

0

▼a

School management and organization

▼x

Encyclopedias.
650

0

▼a

Education and state

▼x

Encyclopedias.
700

1

▼a

Postlethwaite, T. Neville.
730

0

▼a

International encyclopedia of education (2nd ed.)
830

0

▼a

Resources in education (Oxford, England)
---
Holdings Information
No.
Location
Call Number
Accession No.
Availability
Due Date
Make a Reservation
Service

No.

1

Location

Main Library/Reference(2F)/

Call Number

R 370.9 I612-2

Accession No.

111093563

Availability

Loan can not(reference room)

Due Date

Make a Reservation

Service
Contents information
Table of Contents
Afghanistan (F. Haque). Albania (S. Temo). Algeria (A. Djeflat). American Samoa (R.M. Thomas). Antigua
& Barbuda (J. Knowles). Argentina (M.A. Petty). Australia (P.A. McKenzie). Austria (H. Altrichter, P.
Posch). Bahamas (M. McLean). Bahrain (N. Wahbe). Bangladesh (M.M. Ali). Barbados (A. Layne, L.
Atherley). Belgium (A. Philippart). Belize (J.A. Bennett). Benin (R. Sack). Bhutan (C.J. Crellin). Bolivia (I.
Classen-Bauer). Botswana (G. Kgomanyane). Brazil (C.A. Gomes). Brunei Darussalam (D.H. Azizah).
Bulgaria (M. Mateev). Burkina Faso (N.M. Ouedraogo, J.D. Nombre). Burundi (M. Rwehera). Cambodia (R.
Lambin). Cameroon (O.W. Yembe). Canada (D.L. Berg). Central African Republic (D. Limbassa). Chad (T.D.
Moadjidibaye). Chile (C. Rodriguez). China, People's Republic of (Teng Teng). Colombia (J. Mora). Congo
(M.A. Husain). Costa Rica (F. Reimers). Côte d'Ivoire (P.D. Kokora). Cuba (E. Martin Sabina). Cyprus (C.
Papanastasiou). Czech Republic (J. Kotasek, J. Svecova). Denmark (M. Jansen, S. Kreiner). Dominica (M.E.
Peters). Ecuador (J. Samaniego F.). Egypt (M.E. Mahrouse). El Salvador (R. Ruiz-Esparza). Estonia (O. Must
et al.). Ethiopia (M. Belachew). Fiji (F. Maugubhai). Finland (M. Herranen). France (A.
Monchablon). Gambia (M. Ceesay). Germany (R.H. Lehmann). Ghana (Y. Dwomoh). Greece (G.
Kontogiannopoulou-Polydorides et al.). Guadaloupe & Martinique (C. Michel, G. Pigeon).
Guatemala (M. Leyton Soto). Guinea-Bissau (W.D.S. Leal Filho). Guinea (H.A.B. Diallo). Haiti (C. Pierre-
Jacques). Honduras (A.L.de Valle). Hong Kong (M. Bray). Hungary (Z. Báthory). Iceland (H. Larusson). India
(A. Bordia). Indonesia (Moegiadi, Jiyono). Iran (H. Aziz-Zadeh). Ireland, Republic of (J. Coolahan). Israel (E.
Shmueli). Italy (A. Visalberghi). Jamaica (V.R. Been, R.R. Morris). Japan (T. Kanaya). Jordan (M. Masri, T.
Bermamet). Kenya (M. Kariuki). Kiribati (J.N. Johnstone). Korea, Democratic People's Republic of (G-C.
Chang). Korea, Republic of (S-H. Shin). Kuwait (M.G. Hussein). Laos (R. Duberg). Latvia (A. Piebalgs).
Lebanon (G.S. Zouain). Lesotho (A.N. Seitlheko). Liberia (R. Duberg). Libya (K. Gezi). Lithuania (M. Luksiene,
Z. Jackunas). Luxembourg (M. Ant). Macau (C. Almeida, M. Bray). Madagascar (R. Rakotondrazaka). Malawi
(S. Nyirenda). Malaysia (A.A. Aziz, S. Maimunah). Maldives (A.H.A. Hakeem). Mali (A. Ouane). Malta (C.J.
Farrugia). Mauritania (D.A. Ousmane). Mauritius (S. Munbodh). Mexico (M.E. Reyes). Mongolia (S.
Spaulding). Morocco (M. Radi). Mozambique (A. Nhavotto). Myanmar (C.T. Crellin). Namibia (M.H. Craelius
et al.). Nepal (T.R. Khaniya, M.A. Kiernan). Netherlands (E.J. Vuyk). New Zealand (J.M.
Barrington). Nicaragua (H. Belli). Niger (H. Bergmann). Nigeria (E.A. Yoloye). Norway (I.R. Bjorndal). Oman
(A.M. Al-Shanfari). Pakistan (A. Ghafoor, R.A. Farooq). Panama (M.A. Gandasegui). Papua New Guinea (P.
Wari,  N. Hoi). Paraguay (D.M. Rivarola). Peru (V.H. Diaz Diaz). Philippines (M.C. Sutaria). Poland (H.
Komorowska-Janowska, A. Janowski). Portugal (J.M. Rau). Qatar (A.A.T. Al-Subaie). Romania (G. Vaideanu).
Russia (N.D. Nikandrov). Rwanda (P.B. Ndengejeho). Saudi Arabia (H.M. Al-Baadi). Senegal (M. Sow).
Seychelles (B. Shamlaye). Sierra Leone (W.A. Taylor, A.B. Sesay). Singapore (O.C. Yeoh). Slovak Republic (J.
Vantuch). Slovenia (B. Maventic Pozarnik). South Africa (M.J. Bondesio, S.J. Berkhout). Spain (G.A. Gil). Sri
Lanka (A.M. Ranaweera). Sudan (F. Leach). Suriname (W.W. Dwarkasing). Swaziland (E. Dlamini). Sweden
(S. Marklund). Switzerland (A. Gretler). Syria (A. Gennaoui). Tanzania (B.N.V. Buretta). Thailand (T.
Boonchuay, M. Siaroon). Togo (A. Mingat). Tonga (A.M. Taufe'ulungaki). Tunisia (H. Ben Jaballah, B.
Lamine). Turkey (B.A. Oney). Tuvalu (J.N. Johnstone). Uganda (C.F. Odaet). United Arab Emirates (M.A. Al-
Nayadi). United Kingdom (W.D. Halls). United States (G.A. Valverde). Uruguay (M.T. Salvo-Paysse, R.E.
Cruz-Cárdenas). Vanuatu (J.N. Johnstone). Venezuela (F. Reimers). Vietnam (D.C. Bernard, Le Thac Can).
Western Samoa (T. Esera). Yemen (M.M. Mottahar). Zaire (M. Magabe). Zimbabwe (B.S.M. Gatawa). 
  

Information Provided By: :