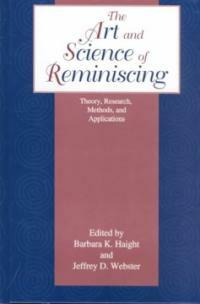 000
03095camuuu200277 a 4500
001
000000561414
005
19971020105710.0
008
941101s1995 dcua b 001 0 eng
020

▼a

1560322985 (cloth : alk. paper)
040

▼a

DLC

▼c

DLC

▼d

COU

▼d

PIT

▼d

UKM
049

1

▼a

ACCL

▼l

111093567
082

0

0

▼a

153.1/2

▼2

20
090

▼a

153.12

▼b

A784
245

0

4

▼a

The art and science of reminiscing:

▼b

theory, research, methods, and applications /

▼c

edited by Barbara K. Haight, Jeffrey D. Webster.
260

▼a

Washington, D.C. :

▼b

Taylor & Francis ,

▼c

c1995.
300

▼a

xxviii, 323 p. :

▼b

ill. ;

▼c

24 cm.
504

▼a

Includes bibliographical references (p. 287-313) and index.
505

0

▼a

An integrated review of reminiscence / Barbara K. Haight and Shirley Hendrix -- The processes of adaptive reminiscences / Paul T.P. Wong -- Reminiscing as a process of social construction / John A. Meacham -- A conceptual model of socialization and agentic trait factors that mediate the development of reminiscence styles and their health outcomes / P.S. Fry -- The individual's life history as a formative experience to aging / Bo Hagberg -- Reminiscence and the oldest old / Sharan B. Marriam -- Adult age differences in reminiscence functions / Jeffrey D. Webster -- A qualitative look at reminiscing: using the autobiographical memory coding tool / Christine R. Kovach -- An exploratory analysis of the content and structure of life review / Brian de Vries, John A. Blando, and Lawrence J. Walker -- Group reminiscence: evaluating short- and long- term effects / M.J. Stones, Christine Rattenbury, and Albert Kozma -- Themes and props: adjuncts for reminiscence therapy groups / Irene Burnside -- Method and uses of the guided autobiography / Brian de Vries, James E. Birren, and Donna E. Deutchman -- The linchpins of a successful life review: structure, evaluation, and individuality / Barbara K. Haight, Peter Coleman, and Kris Lord -- Finding common ground and mutual social support through reminiscing and telling one's story / Howard Iver Thorsheim and Bruce Roberts -- Using reminiscence interviews for stress management in the medical setting / Bruce Rybarczyk -- Reminiscence interventions for the treatment of depression in older adults / Lisa M. Watt and Philippe Cappeliez -- Evaluating the impact of reminiscence on older people with dementia / Bob Woods and Fionnuala McKiernan -- Reminiscence in psychotherapy with the elderly: telling and retelling their stories / Linda L. Viney -- Differential effects of oral and written reminiscence in the elderly / Edmund Sherman -- Finding meaning in memories: the American Association of Retired Persons' reminiscence program / Betty Davis -- Memory lane milestones: progress in reminiscence definition and classification / Jeffrey D. Webster and Barbara K. Haight.
650

0

▼a

Reminiscing.
650

0

▼a

Reminiscing in old age.
650

0

▼a

Autobiographical memory.
650

2

▼a

Memory.
653

0

▼a

Humans

▼a

Memory (Mental processes)
700

1

▼a

Haight, Barbara K.
700

1

▼a

Webster, Jeffrey D.

▼q

(Jeffrey Dean).
---
Holdings Information
No.
Location
Call Number
Accession No.
Availability
Due Date
Make a Reservation
Service

No.

1

Location

Main Library/Western Books/

Call Number

153.12 A784

Accession No.

111093567

Availability

Available

Due Date

Make a Reservation

Service