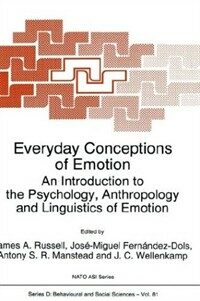 Everday conceptions of emotion: an introduction to the psychology,anthropology and linguistics of emotion
000
00867camuuu200241 a 4500
001
000000467522
005
19970306130158.0
008
950329s1995 ne a bi 101 0 eng
010

▼a

95013602
015

▼a

GB95-55592
019

▼a

33044578
020

▼a

0792334795 (HB : alk. pap
040

▼a

DLC

▼c

DLC

▼d

NLM

▼d

UKM
049

1

▼l

111079323
082

0

4

▼a

152.4

▼2

20
090

▼a

152.4

▼b

E93
245

1

0

▼a

Everday conceptions of emotion:

▼b

an introduction to the psychology,anthropology and linguistics of emotion/

▼c

edited by James A.Russell; Jose-Miguel Fernandez-Dols; Antony S.R.Manstead; J.C.Wellenkamp.
260

▼a

Dordrecht/Boston/London :

▼b

Kluwer academic publishers ,

▼c

1995.
300

▼a

584p.:

▼b

ill.;

▼c

25cm.
440

0

▼a

NATO ASI Series
504

▼a

Includes bibliographical references and index(pp.575-584).
700

1

0

▼a

Russell, James A.
---
Holdings Information
No.
Location
Call Number
Accession No.
Availability
Due Date
Make a Reservation
Service

No.

1

Location

Main Library/Western Books/

Call Number

152.4 E93

Accession No.

111079323

Availability

Available

Due Date

Make a Reservation

Service
Contents information
Table of Contents
Preface. 1: Emotion Econcepts and What Language Reveals about Them. Introduction: Language and Emotion Concepts; Z. Kovecses. Everyday Conceptions of Emotion: A Semantic Perspective; A. Wierzbicka. Metaphor and the Folk Understanding of Anger; Z. Kovecses. The Heart and the Head: Everydat Conceptions of Being Emotional; W.G. Parrott. Prototype Analyses of Emotion Terms in Palau, Micronesia; K.D. Smith, D. Tkel-Sbal. Turkish Emotion Concepts: A Prototype Analysis; S. Turk Smith, K.D. Smith. Emotions and Emotion Words; N.H. Frijda, S. Markam, K. Sato. Everyday Concepts of Emotions Following Every-Other-Day Errors in Joint Plans; K. Oatley, L. Larocque. 2: Anthropological Studies of Emotion Concepts. Introduction: Ethnotheories of Emotion; J.C. Wellenkamp. American Cultural Models of Embarrassment: The Not-so Egocentric Self Laid Bare; D. Holland, A. Kipnis. The Study of Inuit Emotions: Lessons from a Personal Retrospective; J.L. Briggs. The Politics of Emotion in Nukulaelae Gossip; N. Besnier. `Caught in the Web of Words': Performing Theory in a Fiji Indian Community; D.L. Brenneis. A Sociolinguistic Approach to Emotion Concepts in a Senegalese Community; J.T. Irvine. Everyday Conceptions of Distress: A Case STudy from Toraja, Indonesia; J.C. Wellenkamp. 3: The Developing Child's Theory of Emotion. Introduction: The Child's Concept of Emotion; P.L. Harris. Yougn Children's Conception of Mind and Emotion: Evidence from English Speakers; H.M. Wellman. Children's Understanding of Emotion; A.S.R. Manstead. The Development of Children's Understanding of Negative Reflexive Social Emotions; K. Papadopoulou. Developmental Constraints of Emotion Categories; P.L.Harris. Children's Understanding of the Strategic Control of Negative Emotions; M. Meerum Terwogt, H. Stegge. Intersubjective Emotions and the Theory of Mind Research: A Cultural Critique; M. Karasawa. 4: Social Influences on Conceptions of Emotion. Introduction: Social Psychological Perspectives on Laypersons' Theories of Emotion; K.D. Smith. Culture Differences in Emotional Knowledge: A Study in Mexico, Chile, Blegium and the Basque Country (Spain); D. Paez, A.I. Vergara. Naive Theories of Emotional Experience: Jealousy; V.L. Zammuner. Emotion Concepts as a Function of Gender; A.H. Fischer. The Social Sharing of Emotion as a Source for the Social Knowledge of Emotion; B. Rime. Knowing and Labeling Emotions: The Role of Social Sharing; G. Bellelli. Expression of Emotion versus Expressions of Emotions: Everyday Conceptions about Spontaneous Facial Behaviour; J.M. Fernanandez-Dols, M.A. Ruiz-Belda. The Collective Construction of Self Esteem: Implications for Culture, Self, and Emotion; S. Kitayama, H.R. Markus, C. Lieberman. 5: Concluding Comments. Final Session; A.S.R. Manstead. The Appeal and Pitfalls of Cross-Disciplinary Dialogues; N. Besnier. Afterword; J.A. Russell. Index.
Information Provided By: :