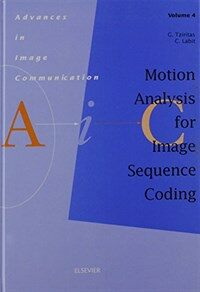 000
00942pamuuu200313 a 4500
001
000000458756
003
OCoLC
005
19970109144915.0
008
940617s1994 ne a b 001 0 eng
010

▼a

94027697
015

▼a

GB94-76810
020

▼a

0444892974 (acid-free paper)
040

▼a

DLC

▼c

DLC

▼d

UKM
049

▼a

ACSL

▼l

121020989
050

0

0

▼a

TK5105.2

▼b

.T95 1994
082

0

0

▼a

006.3/7

▼2

20
090

▼a

006.37

▼b

T998m
100

1

▼a

Tziritas, G.
245

1

0

▼a

Motion analysis for image sequence coding /

▼c

G. Tziritas, C. Labit.
260

▼a

Amsterdam ;

▼a

New York :

▼b

Elsevier,

▼c

1994.
300

▼a

xxiii, 366 p. :

▼b

ill. ;

▼c

25 cm.
440

0

▼a

Advances in image communication ;

▼v

4
504

▼a

Includes bibliographical references and index.
650

0

▼a

Image transmission.
650

0

▼a

Image processing.
650

0

▼a

Coding theory.
650

0

▼a

Motion perception (Vision)
653

0

▼a

Image processing
700

1

▼a

Labit, C.
---
Holdings Information
No.
Location
Call Number
Accession No.
Availability
Due Date
Make a Reservation
Service

No.

1

Location

Science & Engineering Library/Sci-Info(Stacks2)/

Call Number

006.37 T998m

Accession No.

121020989

Availability

Available

Due Date

Make a Reservation

Service
Contents information
Table of Contents
Foreword. Contents. List of Figures. List of Tables. Introduction to Image Sequence Coding. Digital picture sequences. Transmission and storage systems. Extraction and exploitation of inter-frame correlations. Types of compression methods. Coding and motion. Plan of the book. Appendices. Bibliography. Perception of Time-Varying Images. Introduction. Modelling aspects. Principal results in the visual analysis of motion. Motion perception by selective filters. Motion perception and application to coding schemes. Conclusion. Appendices. Bibliography. Two-Dimensional Motion Analysis. 2-D velocity field and optical flow. Curvilinear domain. Two-dimensional domain. Appendices. Bibliography. Motion-Compensated Predictive Coding. A note on predictive coding. Rate-distortion function. Motion-compensated prediction. Quantization of the prediction error. Information encoding. Channel errors. Appendices. Bibliography. Hybrid Coding: Motion Compensation and Orthogonal Transformation. Rate-distortion function. Quantization of transform coefficients. Data encoding. Channel error. Appendix. Bibliography. Multigrid Motion Estimation Schemes and Subband Coding. Introduction to multigrid schemes. Decomposition into subbands. Multiscale motion estimation. Multigrid motion estimation on low-pass pyramids. Multiband motion estimation on bandpass pyramids. Subband coding and motion compensation. Performance of a subband coding and motion scheme compensation. Conclusion. Appendices. Bibliography. Motion-Compensated Image Interpolation. Temporal interpolation error. Rate-distortion function. Motion estimation for interpolation. Bibliography. Motion and Structure. Application to Feature-Oriented Coding. Models and descriptors of 3-D motions. Estimation methods in the monocular case. Motion estimation methods in the binocular case. Bibliography. Applications and Standards. Principle applications in image sequence compression. Coding/decoding standards. Conclusion. Bibliography. Index.
Information Provided By: :