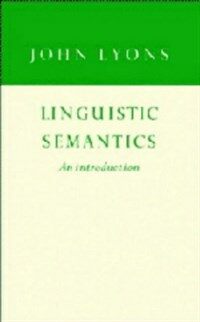 000
00839camuuu200289 a 4500
001
000000432794
003
OCoLC
005
19961021100737.0
008
941229s1995 enka b 001 0 eng
010

▼a

94049736
015

▼a

GB95-97839
019

▼a

33970309
020

▼a

0521433029 (hardback)
020

▼a

0521438772 (pbk.)
040

▼a

DLC

▼c

DLC

▼d

UKM
049

1

▼a

CNUL

▼l

111067186
050

0

0

▼a

P325

▼b

.L9595 1995
082

0

0

▼a

401/.43

▼2

20
090

▼a

401.43

▼b

L991L
100

1

▼a

Lyons, John,

▼d

1932-
245

1

0

▼a

Linguistic semantics :

▼b

an introduction /

▼c

John Lyons.
260

▼a

Cambridge ;

▼a

New York :

▼b

Cambridge University Press,

▼c

1995.
300

▼a

xvi, 376 p. :

▼b

ill. ;

▼c

23 cm.
504

▼a

Includes bibliographical references (p. 343-359) and index.
650

0

▼a

Semantics.
653

0

▼a

Semantics
---
Holdings Information
No.
Location
Call Number
Accession No.
Availability
Due Date
Make a Reservation
Service

No.

1

Location

Main Library/Western Books/

Call Number

401.43 L991L

Accession No.

111067186

Availability

Available

Due Date

Make a Reservation

Service
Contents information
Author Introduction
존 라이언스
(지은이)
영국의 저명한 의미론 학자. 케임브리지대학교에서 언어학 교육을 받았고, 에든버러대학교와 서식스대학교에서 언어학 교수를 지냈으며, 1985년 이래 케임브리지대학교의 교수로 활동하다가 2000년에 은퇴하였다. 의미론과 이론언어학에 관한 중요한 학술적 업적이 있고, 대표 저서인 <<의미론 1>>과 <<의미론 2>> 이외에도 <<구조주의 의미론>>, <<이론언어학 개론>>, <<촘스키>>, <<언어와 언어학>>, <<언어, 의미, 맥락>>, <<자연언어와 보편문법>>, <<언어 의미론 개론>> 등 폭넓은 관점에서 언어학과 의미론을 논의한 저작이 많이 있다.
Information Provided By: :

Table of Contents
Preface; List of symbols and typographical conventions; Part I. Setting the Scene: 1. Metalinguistic preliminaries; Part II. Lexical Meaning: 2. Words as meaningful units; 3. Defining the meaning of words; 4. The structural approach; Part III. Sentence-Meaning: 5. Meaningful and meaningless sentences; 6. Sentence-meaning and propositional content; 7. The formalisation of sentence-meaning; Part IV. Utterance-Meaning: 8. Speech acts and illocutionary force; 9. Text and discourse; context and co-text; 10. The subjectivity of utterance; Suggestions for further reading; Bibliography; Index.
Information Provided By: :