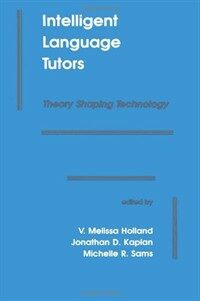 000
01384camuuu200325 a 4500
001
000000424799
003
OCoLC
005
19970910135105.0
008
950224s1995 nju b 001 0 eng
010

▼a

95007640
020

▼a

0805815023
020

▼a

0805815031 (pbk.)
040

▼a

DLC

▼c

DLC
049

▼a

ACCL

▼l

111063860
050

0

0

▼a

P53.28

▼b

.I58 1995
082

0

0

▼a

418/.00285

▼2

20
090

▼a

418.00285

▼b

I61
245

0

0

▼a

Intelligent language tutors:

▼b

theory shaping technology /

▼c

edited by V. Melissa Holland, Jonathan D. Kaplan, Michelle R. Sams.
260

▼a

Mahwah, N.J. :

▼b

Erlbaum ,

▼c

1995.
300

▼a

xviii, 384 p. ;

▼c

25 cm.
500

▼a

Twenty papers based on papers presented at a workshop held in 1993 and sponsored by the Army Research Institute.
504

▼a

Includes bibliographical references and index.
505

2

▼a

1. Text-based language tutors and learning environments -- 2. Dialogue-based language games -- 3. Graphics-based language tutors and learning environments -- 4. Theoretical issues in language tutor design and assessment.
650

0

▼a

Language and languages

▼x

Computer-assisted instruction.
650

0

▼a

Computational linguistics.
700

1

▼a

Holland, V. Melissa.
700

1

▼a

Kaplan, Jonathan D.
700

1

▼a

Sams, Michelle R.
710

2

▼a

U.S. Army Research Institute for the Behavioral and Social Sciences.
---
Holdings Information
No.
Location
Call Number
Accession No.
Availability
Due Date
Make a Reservation
Service

No.

1

Location

Main Library/Western Books/

Call Number

418.00285 I61

Accession No.

111063860

Availability

Available

Due Date

Make a Reservation

Service
Contents information
Table of Contents
Contents: V.M. Holland, Introduction: The Case for Intelligent CALL. Part I:Text-Based Language Tutors and Learning Environments. M.R. Sams, Advanced Technologies for Language Learning: The BRIDGE Project Within the ARI Language Tutor Program. A. Weinberg, J. Garman, J. Martin, P. Merlo, A Principle-Based Parser for Foreign Language Tutoring in German and Arabic. S. Kreyer, E. Criswell, Instructor as Author in an Adaptive, Multimedia, Foreign Language Tutor. M. Rypa, K. Feuerman, CALLE: An Exploratory Environment for Foreign Language Learning. L.S. Levin, D.A. Evans, ALICE-chan: A Case Study in ICALL Theory and Practice. C.H. Frederiksen, J. Donin, M. Décary, A Discourse Processing Approach to Computer-Assisted Language Learning. D. Loritz, GPARS: A Suite of Grammar Assessment Systems. Part II:Dialogue-Based Language Games. R.H. Sanders, A.F. Sanders, History of an AI Spy Game: Spion. W.H. DeSmedt, Herr Kommissar: An ICALL Conversation Simulator for Intermediate German. Part III:Graphics-Based Language Tutors and Learning Environments. H. Hamburger, Tutorial Tools for Language Learning by Two-Medium Dialog. S.A. Douglas, LingWorlds: An Intelligent Object-Oriented Environment for Second-Language Tutoring. R.S. Tomlin, Modeling Individual Tutorial Interactions: Theoretical and Empirical Bases of ICALL. J.H. Murray, Lessons Learned from the Athena Language Learning Project: Using Natural Language Processing, Graphics, Speech Processing, and Interactive Video for Communication-Based Language Learning. S. Felshin, The Athena Language Learning Project NLP System: A Multilingual System for Conversation-Based Language Learning. J.D. Kaplan, V.M. Holland, Application of Learning Principles to the Design of a Second Language Tutor. B. Dorr, J. Hendler, S. Blanksteen, B. Migdaloff, On Beyond Syntax: Use of Lexical Conceptual Structure for Intelligent Tutoring. Part IV:Theoretical Issues in Language Tutor Design and Assessment. B. MacWhinney, Evaluating Foreign Language Tutoring Systems. A. Bailin, AI and Language Learning: Theory and Evaluations. N. Garrett, ICALL and Second Language Acquisition. R.L. Oxford, Linking Theories of Learning with Intelligent Computer-Assisted Language Learning (ICALL).

Information Provided By: :