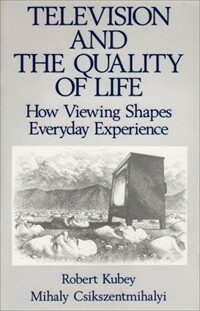 000
00979camuuu200289 a 4500
001
000000235597
005
19980901143713.0
008
890801s1990 njua b 001 0 eng
010

▼a

89038679 //r912
020

▼a

080580708X (pbk.)
020

▼a

0805805524 (hard)
040

▼a

DLC

▼c

DLC

▼d

OCL
049

1

▼l

111055026
050

0

0

▼a

HE8700.65

▼b

.K82 1990
082

0

0

▼a

302.23/45

▼2

20
090

▼a

302.2345

▼b

K95t
100

1

▼a

Kubey, Robert William,

▼d

1952-
245

1

0

▼a

Television and the quality of life :

▼b

how viewing shapes everyday experience /

▼c

Robert Kubey, Mihaly Csikszentmihalyi.
260

▼a

Hillsdale, N.J. :

▼b

L. Erlbaum Associates,

▼c

1990.
300

▼a

xvii, 287 p. :

▼b

ill. ;

▼c

23 cm.
490

1

▼a

Communication.
504

▼a

Includes bibliographical references (p. 244-267) and index.
650

0

▼a

Television viewers.
650

0

▼a

Television

▼x

Social aspects.
700

1

0

▼a

Csikszentmihalyi, Mihaly.
830

0

▼a

Communication (Hillsdale, N.J.)
---
Holdings Information
No.
Location
Call Number
Accession No.
Availability
Due Date
Make a Reservation
Service

No.

1

Location

Main Library/Western Books/

Call Number

302.2345 K95t

Accession No.

111055026

Availability

Available

Due Date

Make a Reservation

Service
Contents information
Author Introduction
미하이 칙센트미하이
(지은이)
시카고대학의 심리학?교육학과 교수를 역임하고, 클레어몬트대학 심리학과 및 피터 드러커 경영대학원 석좌교수이자 '삶의 질 연구소' 소장으로 재직 중이다. '몰입(flow)' 이론의 창시자로 유명한 그는 오랫동안 인간의 창의성과 행복에 대해 연구해온 세계적 석학이다. 칙센트미하이 교수의 연구에 대한 관심과 적용은 학계는 물론 교육 및 비즈니스 등 다양한 분야에 걸쳐 나타나고 있다. 주요 저서로는 『몰입(flow)』, 『몰입의 경영』, 『창의성의 즐거움』, 『십대의 재능은 어떻게 발달하고 어떻게 감소하는가』,『칙센트미하이의 몰입과 진로』, 『달리기, 몰입의 즐거움』 등이 있다.
Robert William Kubey
(지은이)
Information Provided By: :

Table of Contents
Contents: A Way to Think About Information Reception. The Problem of Leisure. The Limits of Television Research. Charting a New Course: The Experience Sampling Method. The Use and Experience of Television in Everyday Life. Television and the Quality of Family Life. Viewing as Cause, as Effect, and as Habit. The Causes and Consequences of Heavy Viewing. A Brief Review of Major Findings: Reclaiming the Idea of Media Effects. Television and the Structuring of Experience.
Information Provided By: :