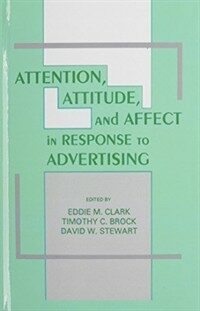 000
00797namuuu2002418a 4500
001
000000022867
005
19950411125214.0
008
921223s1993 nju b 001 0 eng
010

▼a

92045795
020

▼a

080580756X
035

▼a

92045795
040

▼a

DLC

▼c

DLC
050

0

0

▼a

HF5822

▼b

.A87 1993
082

0

0

▼a

659.1/01/9

▼2

20
090

▼a

659.1

▼b

A883
245

0

0

▼a

Attention, attitude, and affect in response to advertising /

▼c

edited by Eddie M. Clark, Timothy C. Brock, David W. Stewart.
260

0

▼a

Hillsdale, N.J. :

▼b

L. Erlbaum Associates ,

▼c

1993.
300

▼a

328 p. ;

▼c

24 cm.
504

▼a

Includes bibliographical references and indexes.
650

0

▼a

Advertising

▼x

Psychological aspects.
700

1

0

▼a

Brock, Timothy C. ,

▼d

1935-
700

1

0

▼a

Stewart, David W.
700

1

0

▼a

Clark, Eddie M.
---
Holdings Information
No.
Location
Call Number
Accession No.
Availability
Due Date
Make a Reservation
Service

No.

1

Location

Main Library/Western Books/

Call Number

659.1 A883

Accession No.

111024674

Availability

Available

Due Date

Make a Reservation

Service
Contents information
Table of Contents
Contents: Preface. D.W. Stewart, Introduction. Part I: Historical and Contemporary Perspectives on Advertising Research. J.C. Maloney, The First 90 Years of Advertising Research. G.J. Tellis, Modeling the Effectiveness of Advertising in Contemporary Markets: Research Findings and Opportunities. Part II: Attention Processes in the Response to Advertising. B.S. Tolley, L. Bogart, How Readers Process Newspaper Advertising. C. Pechmann, D.W. Stewart, The Psychology of Comparative Advertising. R.W. Olshavsky, Attention as an Epiphenomenon: Some Implications for Advertising. J. Meyers-Levy, Gender Differences in Cortical Organization: Social and Biochemical Antecedents and Advertising Consequences. Part III: Advertising and the Processes of Attitude Formation and Change. T.B. Heath, G.J. Gaeth, Theory and Method in the Study of Ad and Brand Attitudes: Toward a Systematic Model. S.E. Middlestadt, M. Fishbein, D.K-S. Chan, The Effect of Music on Brand Attitudes: Affect- or Belief-Based Change? L.A. Brannon, T.C. Brock, Test of Schema Correspondence Theory of Persuasion: Effects of Matching an Appeal to Actual, Ideal, and Product "Selves." J.J. Wheatley, G. Brooker, Music and Spokesperson Effects on Recall and Cognitive Response to a Radio Advertisement. Part IV: Affect and Advertising. M.P. Gardner, Responses to Emotional and Informational Appeals: The Moderating Role of Context-Induced Mood States. B.G. Englis, The Role of Affect in Political Advertising: Voter Emotional Responses to the Nonverbal Behavior of Politicians. Part V: Advertising Price. R.M. Schindler, How to Advertise Price. Part VI: Advertising and Health. M. Slater, J. Flora, Is Health Behavior Consumer Behavior? Health Behavior Determinants, Audience Segmentation, and Designing Media Health Campaigns. E.M. Clark, T.C. Brock, Warning Label Location, Advertising, and Cognitive Responding. L. Percy, M.R. Lautman, Advertising, Weight Loss, and Eating Disorders.

Information Provided By: :